4G vs 3G
When you are going to connect to the internet, you face the options of 3G and 4G for your device. So what are the differences? Here are some tips which may help you to make your choice. We won't bore you with any technical details, just specify some advantages of the two options.
Actually, the letter G stands for generation, so it means that 4G is more advanced. Does it mean better? Let's see. It depends on the situation and the purpose. Prior to your choice, check up if your device can support 4G. Some cannot.
The obvious advantage of 4G is that it is 10 times faster and supports more advanced services requiring more capacity and speed, such as modern games, high quality videos, etc. 4G makes you free turning your mobile device into your office which you can take anywhere. 4G secures more privacy while connecting to Wi-Fi and is available in most big cities. Yet if you are not a fan of modern games, there is no need for you to share photos in an eye blinking, and loading songs fast is of minor importance to you, that is, in other words, you are going to use the internet mostly for voice and mssaging, then 3G is more than enough.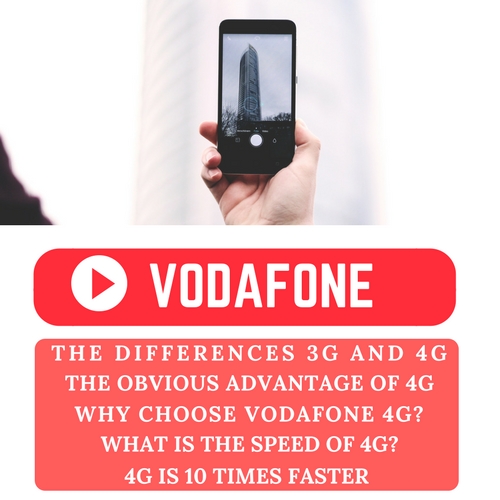 Vodafone 4G
What does Vodafone 4G mean?
New benefits of advanced internet technologies.
What makes 4G different from 3G?
4G is 10 times faster.
Are 4G and LTE the same?
Practically no difference. LTE means Long Term Evolution for short.
Is 4G package more expensive than 3G?
No, it costs the same.
Why people choose Vodafone 4G?
It has the largest coverage area in the world with the best indoor coverage (1800 MHz).
What will I get with 4G?
The fast loading of games, videos, apps, songs, photos. You will be one step ahead than those using 3G.
Can I try Vodafone 4G before I make my choice?
Yes, you can. We will be glad to change your 3G SIM to 4G SIM so that you could experience the difference for free.
What is the speed of Vodafone 4G?
From 10 Mbps to 30 Mbps. However please bear in mind, it depends upon your device and the network properties as well as the content you are going to view or download.
What do I need to use 4G?
4G SIM card, a mobile device supporting 4G with 4G/LTE option on, 4G network available.
How to check if 4G is enabled on my device?
Text "4G check" to our toll free number 199 to make sure your device supports this option. The information is available on our site as well. The other way to find out is to check your phone model number on the internet. Don't know your model number? Find it in Settings/About device in your phone.
How do I know that 4G is on?
You will see "4G" or "LTE" next to the coverage signal. The internet quality will be better as well.
What are the special settings on my phone for 4G to configure?
Select the Bearer's Type as unspecified within the network settings.
Is an additional SIM is needed for 4G?
Yes, it is needed and available for free upgrade in our Vodafone stores.
If I have 4G and use it in the 4G zone, will 4G be available for me in 3G zones as well?
No.
Can I use 4G in roaming?
Only if you have access to Vodafone 4G area and select it in your settings. It is not available worldwide yet.
If I use Mobile Broadband, will I be able to connect to 4G from it?
No, as of now, 3G only.
Do I have to buy a mobile device for 4G only in Vodafone? No, just be sure it supports it.
3G
What is the way to check settings?
Please find APN (standing for Access Point Name) and make sure it is 'www' unless you have an iphone. Then it should be 'iphone' as well.
What should I do to configure settings?
Either dial *111# for internet plans and settings or text "ALL" to 199.
How can I check which Internet plan is the best for me?
Either use Internet Usage calculator to check how much internet you use or choose the recommended plan for you.
If I use from 1 to 2 GB what plan is better for me?
You will save with a package/plan providing 2 Gb.
How can I buy a data pack?
On the website online/on Vodafone app/dialing *111# or at our stores.
How can I know which mobile plan I am using?
Dial *111#.
How can I know how much internet is left?
We text you to notify about your usage in most cases yet you may check it texting "ALL BAL" to 199 or dial *111#.
If I have used all internet in my pack and still want to use, what can I do?
You may buy an additional pack.
If my speed is slow after I have used all my unlimited pack, what can I do to increase the speed?
You may boost the speed with the Booster option.
What does 3G mean?
It is the third generation of wireless internet.
What are the requirements for my phone to use 3G?
It should support 3G and you should have a 3G mobile plan as well as 3G network available.
What is the way to configure 3G on my phone?
Select 3G mode in the settings.
How can I save internet traffic if apps are updated from time to time?
Select the option "Update apps on Wi-fi".
How much am I supposed to be charged in National Roaming?
Your home rates.
How much am I supposed to be charged in International Roaming?
It depends on the country. To find that out please text ROAM country name to 199 (toll free in home network).
Mobile Internet Vodafone. 4G vs 3G
updated:
June 7, 2017
author: